It's two months ago today that my Pop died, and I've spent those two months feeling very lost – wandering, waiting, and wondering when something would grab my attention or give me some direction. Just today I feel like I have finally found some clarity, purpose and direction for my next five months of travels..
Venezuela is calling me again, this time to find a nice, quiet, beach side location to write. And write, and write and write. For many years I've had the idea of writing a book about my experiences, and until now it has remained an idea. Over the years a number of people have said I should write a book, and although I am flattered by those suggestions, I've still done nothing more than say thank you.
Well this year it seems that the universe has collaborated with many unrelated people, and everywhere I turn, someone is telling me I should write a book. About me, my experiences and my life. And as egotistical as that sounds, I've decided that's what I need to do.
This decision hasn't been easy, as I guess important decisions never are. And I feel as if I've had to be metaphorically smacked in the head a few times for the idea of writing about myself to really sink in and take hold. There are still some moments where I panic and get overwhelmed with the enourmity of the task, or when I feel absurd thinking that other people might be interested in my story.
And then there are fleeting moments when I think that maybe, just maybe, something I have to say will help someone else, and that is the straw I'm grasping at to initiate this project. Of course, there will be lots of funny – possibly even hilarious – stories, and many interesting tales and travel anecdotes, and some history that until now, only a few close friends have known about. My aim is to be as raw and honest as I can, and to tell all without glossing over or covering up the bruised bits.
One excuse I'd had until two months ago was that I didn't want to publish anything while my Pop was alive, for fear of embarrassing or upsetting him. Now that he's gone, I don't have that crutch, and I actually think he would want me to write, even if only for the supposed therapeutic benefits I would possibly gain from doing so.
Since Pop died I have been emotionally exhausted – partly from the obvious grief, and partly because I've been searching to find much needed meaning in what I'm doing here in South America. In three months of travels this year so far, I've been to only four countries and revisited two (soon to be three) of them, which is highly unusual for me. More commonly, I travel faster, and I don't re-visit countries in the same trip.
However, right from the beginning, my trip this year was different from other years, and it continues to be so. The purpose of it was to be warm all year long (Melbourne is too cold for me for nine months of the year), to learn Spanish, and to write. After Pop's death I wanted to be with friends, and I had returned to Brazil for that reason. As things have turned out, my time in North-Eastern Brazil has not gone as planned, and I'm not doing any o the things I wanted to on this trip, and that has forced me to become very clear about what I want to do next.
The last time I was this emotionally shaken up was from another death – that of my friend Lee in 2009. Lee's death started my serious journey of self discovery, and of trying to find the direction, clarity and purpose of my life. I certainly don't think I've got it all sorted out yet, but I do feel like my internal compass is swinging a little less wildly for now, and Venezuela is my 'north pole' magnet.
My reason for writing is not fame and glory. The idea of that actually makes me shudder. I don't consider what I've done and who I am to be particularly special in any way, I'm just me. It isn't until other people exclaim long enough and loud enough that I have stories, experience and learnings worth telling, that I'm beginning to listen.
If I can get it written, and if it gets published, and if people buy it, great. I don't want the money for me, I can travel cheaply with my own little money. If all these if's come about, I will use the money to help more people. I meet so many wonderful people in my travels, and I wish I was as rich as some people think I am. This book – or two or three – are my chance of finally being able to help more people in more ways than I am currently able to.
So, this post is to hold me accountable. I need to know someone is expecting something from me in order to work at my best, and I'm also very good at procrastinating when it comes to important tasks. Therefore, I'm rationalising that if other people know I'm meant to be writing (more than anything else) in July and August, I might actually do it.
I've also decided today that my remaining three months after Venezuela will be spent only in South America. Initially I wanted to see all of Latin America (South and Central) and more of the Caribbean, but now that thought makes me weary. So, unusually again, I've decided to slow down and visit Central America and more of the Caribbean next year. And possibly also Canada and the States to revisit friends.
That's my plan at this stage anyway. For now, I have one week left in Brazil and then I'm heading back to Venezuela to find my Caribbean Coastal Writing Paradise. I've said it now, and am determined to keep my word. Feel free to drop me a line every now and again to ask how much I've written that day. I need the accountability.
Oh, and here's a cool map I found you can create online, to visualise all the countries you've been to. I'm at 49 and don't yet know what country will be number 50.. perhaps Peru, because I'm told the food there is the best in Latin America..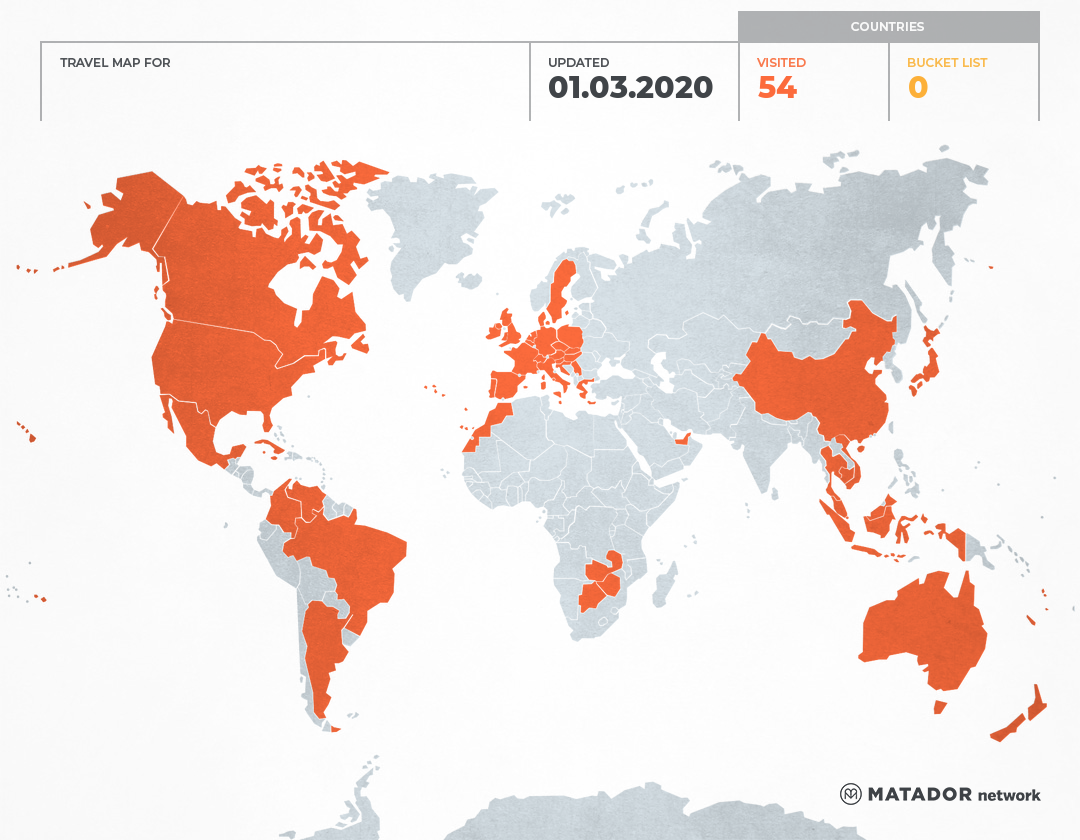 Belinda Jane has been to: United Arab Emirates, Argentina, Austria, Australia, Belgium, Brazil, Botswana, Canada, Switzerland, People's Republic of China, Colombia, Cuba, Czech Republic, Germany, Denmark, Spain, France, United Kingdom, Greece, Croatia, Hungary, Indonesia, Ireland, Italy, Jamaica, Japan, Cambodia, Cayman Islands, Morocco, Malta, Mexico, Malaysia, New Caledonia, Netherlands, New Zealand, Poland, Portugal, Serbia, Sweden, Singapore, Slovenia, Slovakia, Thailand, United States, Venezuela, Vietnam, Vanuatu, Zambia, Zimbabwe.
Get your own travel map from Matador Network.